Kolorseal Ltd is celebrating another victory as NFA Colour Specialist 2021. The company was awarded the accolade in recognition of its colour coating services to the fenestration sector in the #NFA20 and #NFA21 Independent Industry Awards.
The gala event held at Doncaster races on Saturday 6th December, was the first of its kind this year with trophy presentations for last year's winners as well the announcement and presentation of the #NFA21 awards.
Deborah Hendry, Managing Director, takes great pride in celebrating this achievement which she considers is very much a team effort. With the awards requiring both nomination and voting for by peers in the industry, she believes that there is evidently great belief in the services, products and the customer support.
With the National Fenestration Awards being industry-led, this win reflects the high standards and the reputation of Kolorseal, in a fair and open way.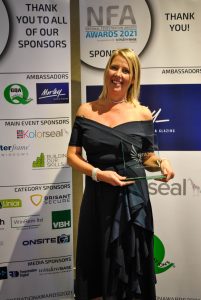 Deborah comments, "As awards go, for us, this is the best – we are nominated by our customers and suppliers for the dedication given by everyone at Kolorseal. This award makes us all very proud and grateful indeed. We really appreciate every single vote that has been given to us, particularly in such a tough couple of years."
The company is recognised by customers for helping to support their business with quality colour coated products. Advice is offered on the Kolorseal website to give ideas and colour trends that can help fabricators and installers to grow their businesses.
Equally, for commercial contracts where architects and specifiers look to create a striking appearance to both contemporary and traditional building projects, the Kolorseal colour palettes offer a complete choice in both UPVC and aluminium products.
For Deborah Hendry, the NFA Colour Specialist of the Year Award has been a morale booster for the whole team. She comments, "In a tough market this is a wonderful achievement. No doubt our success story can be attributed not just to the quality standards we provide but also the drive and commitment of the whole team. It is a great reflection on everyone at Kolorseal and a job very well done!"
For more information on Kolorseal Ltd please visit www.kolorseal.co.uk or to discuss a project, please call 01924 454826