For Deborah Hendry, Managing Director at Kolorseal Ltd, the entrance to a home helps to reflect
lifestyle choices. It is viewed as the focal point for any property and it is now being used by
consumers to reflect lifestyles and individual personalities. Getting the colour right is essential.
"Choosing the right colour is more difficult than people may realise, which is something installers
should consider when approaching the end user about door renovation or installation projects.
First impressions are absolutely everything when it comes to property, and homeowners have grown
bolder in their colour preferences. A beautifully colour coated front door makes all the difference,
and today, there are pretty much no limits," Deborah comments.
For fabricators and installers it is all about providing as much choice as possible, and the Kolorseal
team understands this. Giving a broad range of colour coating options enables them to offer
homeowners the design and overall appeal they want for their property.
Getting the colour right will depend on a few considerations, including whether there are any colour
restrictions on the property. Some listed buildings or new builds could have covenants or
restrictions which dictate the colour palettes that can be used on an entrance door, in order to keep
an aesthetic continuity within a particular area.
One of the key factors to consider when talking to consumers, is the overall existing look from the
outside. Additionally, it is important to evaluate the exact colour shade of a front door when
standing outside.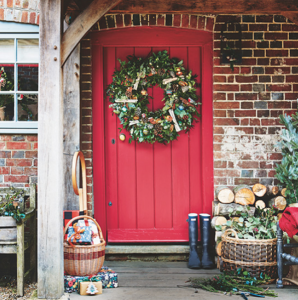 Deborah continues, 'It is probably wise to have narrowed down some colour options that will match
with an existing house aesthetic. To simplify this, look at the colour of the windows and any other
primary colour coated products such as gutters and fascias."
There may also be some considerations people might want to give to colour choice based on how
that particular shade might reflect on them as people.
A composite door that has been colour sprayed yellow suggests warmth with friendly occupants.
Alternatively for those homeowners into feng-shui then a blue sprayed front door suggests peace
and tranquillity while green generates feelings associated with safety and security.
When it comes to helping end users choose the right colour then red and black are always timeless
classics. For consumers who are very into the design and aesthetic of their home then a shade of red is
probably the most powerful colour to install. It reflects power and in feng-shui terms it provides
protection, passion and is considered the luckiest colour of them all. Certainly, a bright red front
door will be noticed.
Deborah concludes, "Knowing what colours signify could be very important to some people, so for
installers who understand this then it could be the difference between making the sale or not.
There are some simple things to consider when choosing a shade, but probably the most important
is complementing the tones and materials that are already there, in the property. Advise
homeowners to evaluate their surroundings and to coordinate to get the best from the colours
chosen. For fabricators looking to add a little more choice to their business, then increasing their colour
portfolio on windows, doors or rainwater products will be very advantageous."
Anyone wishing to discuss colour coating options please call the Kolorseal team on 01924 454856
or visit the website www.kolorseal.co.uk